Red Stone Castle and Carpathian Wine tour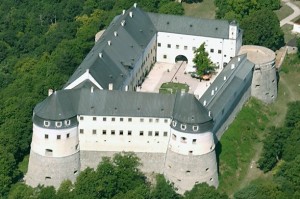 Enjoy the timeless beauty and majesty of the Red Stone Castle, romantically hidden in quiet foothill of Small Carpathian Mountain, surrounded by large park and forrests rich in game animals.. Breath the atmosphere of history and noble life away from crowded city, just about one hour from Bratislava. Learn from your guide about the previous generations of noble families living at the Castle for centuries and listen to the heart touching life stories of some of their members. See the largest cellars in central Europe where copper and wine were stored for centuries, admire the collections of weapons, furniture, ceramics, paintings, books, clothing and items of daily life used by aristocracy living here since 16th century and have a look into the castle holders day-to-day life in the past.
On the way back to Bratislava, your guide will take you to nearby small town for wine tasting. Sample some vintages of local wine producers of this region, where top-class wines were served locals and kings for centuries.
Please note: The transportation is required for this tour, we can arrange it upon your requirement.